"The food industry in China has grown at an average rate of over 20% for 10 consecutive years. In 2010, the total output value of the food industry reached 6.3 trillion yuan, which was estimated to have exceeded 7 trillion yuan in 2011. Food and packaging machinery is used as a carrier for high-tech food manufacturing. The overall industry level is at least 20 years behind the developed countries." Not long ago, Li Shujun, dean of the Chinese Academy of Agricultural Mechanization Sciences and chairman of the China Food and Packaging Machinery Industry Association, said.

It has been learned that for a long time, China's food and packaging machinery industry has a low level of product technology, irrational industrial institutions, a low level of standardization, and lack of innovation capabilities. It is a severe problem, homogenous, low-level vicious competition, large-scale, intelligent high-end food and Packaging machinery mainly relies on imports. At present, a new round of technological revolution led by information technology and materials technology will further widen the gap with the international advanced level and even endanger the national food safety.

According to the latest data from the China Federation of Machinery Industry, from January to October 2011, the development of the food packaging machinery industry in the country experienced a year-on-year growth. The growth rate of total industrial output value and sales output reached 30.38% and 31.17% respectively; The growth rate of delivery value reached 53.82%, with a cumulative increase of 18.65 percentage points year-on-year.

People in the industry believe that the reason why the food machinery industry can develop so rapidly is mainly influenced by two factors. On the one hand, new restaurants and restaurants are emerging one after another, which drives the rapid development of the food machinery industry; on the other hand, people's life is accelerated. , Dining out more and more as a consumer habit, but also indirectly led to the development of the food machinery industry.

According to a food machinery seller, in addition to the steady demand for food companies and dining outlets throughout the country, the demand for food machinery in counties, townships, and even rural areas cannot be underestimated. "As living standards increase, many rural areas also The quality of life is increasingly emphasized, especially since noodle makers and refiners have a market in rural areas."

However, He Nanzhi, former executive vice chairman and secretary-general of the China Food and Packaging Machinery Industry Association, said: "At present, many domestic food processing and packaging machinery manufacturers are passive in their development. Many technological improvements are also helpless. Lift."

It is reported that in nearly 7,000 food and packaging machinery manufacturing enterprises in China, more than 95% are small and medium-sized enterprises and private enterprises, and the geographical distribution of eastern and western regions is very different. Most of the production enterprises are concentrated in China's economically developed regions, such as the Pearl River Delta. , the Yangtze River Delta, Bohai Bay and other regions. Small but large, large but not large, big but not strong, has become an indisputable fact in the food and packaging machinery industry. There is still a big gap compared with the level of manufacturing in developed countries.

According to data analysis, about 2,000 of the nearly 7,000 companies are not stable enough. Nearly 15% of the companies convert or close down each year. At the same time, about the same number of new companies enter the industry; The lack of leading enterprises, annual sales exceeds 100 million yuan. Only about a dozen companies have annual sales of more than 30 million yuan, about 50 companies. From the point of view of scientific research product development, it still basically remains in the test imitation stage, and its own development ability is not strong, and research investment is low. The funds only account for 1% of sales, while developed countries are as high as 8% to 10%.

However, the lack of independent innovation capability and insufficient attention to advanced technologies relied on foreign countries, and the passive situation in which high-end equipment relied on imports could not be effectively improved; price vicious competition still existed, product similarity and plagiarism remained widespread, and the idea of ​​small wealth and security was still very high. Serious; basic development is lagging behind, basic spare parts, automation, intelligent control systems and test instruments, machining and basic manufacturing equipment obviously lag behind the development of the mainframe, and has become a bottleneck affecting the upgrading of food packaging machinery products to high-end.

Jiang Qi, General Manager of Hualian Machinery Group Co., Ltd. once pointed out that at present, China's food industry is developing from the previous emphasis on production and sales toward the balance of production, sales, and research and development. The gap with the international advanced food industry companies is gradually narrowing. However, he believes that "in the short term, China's food industry will still win with prices, not advanced technology."

"In the new round of industrial competition, the industrial safety and development prospects of the food and packaging machinery industry are not optimistic. Therefore, increase the efforts to adjust the structure, transfer methods, and the upper level, accelerate the improvement of product quality and efficiency, and pay attention to the development of product science and technology innovation. The road is imperative and imminent," said Li Shujun.



Large Square Compact Packaging

large size can be filled with more powder. It also can change to any color and surface treatment, like rubber, UV spray, plating. the parts of plastic injection will be assembled together in our assembly workshop. Its size is 75MM, and surface treatment is electronic plating. There are 3 versions with different top cover. The molds are existed, so we can produced for client at anytime. And it is good for us to control the quality and timing.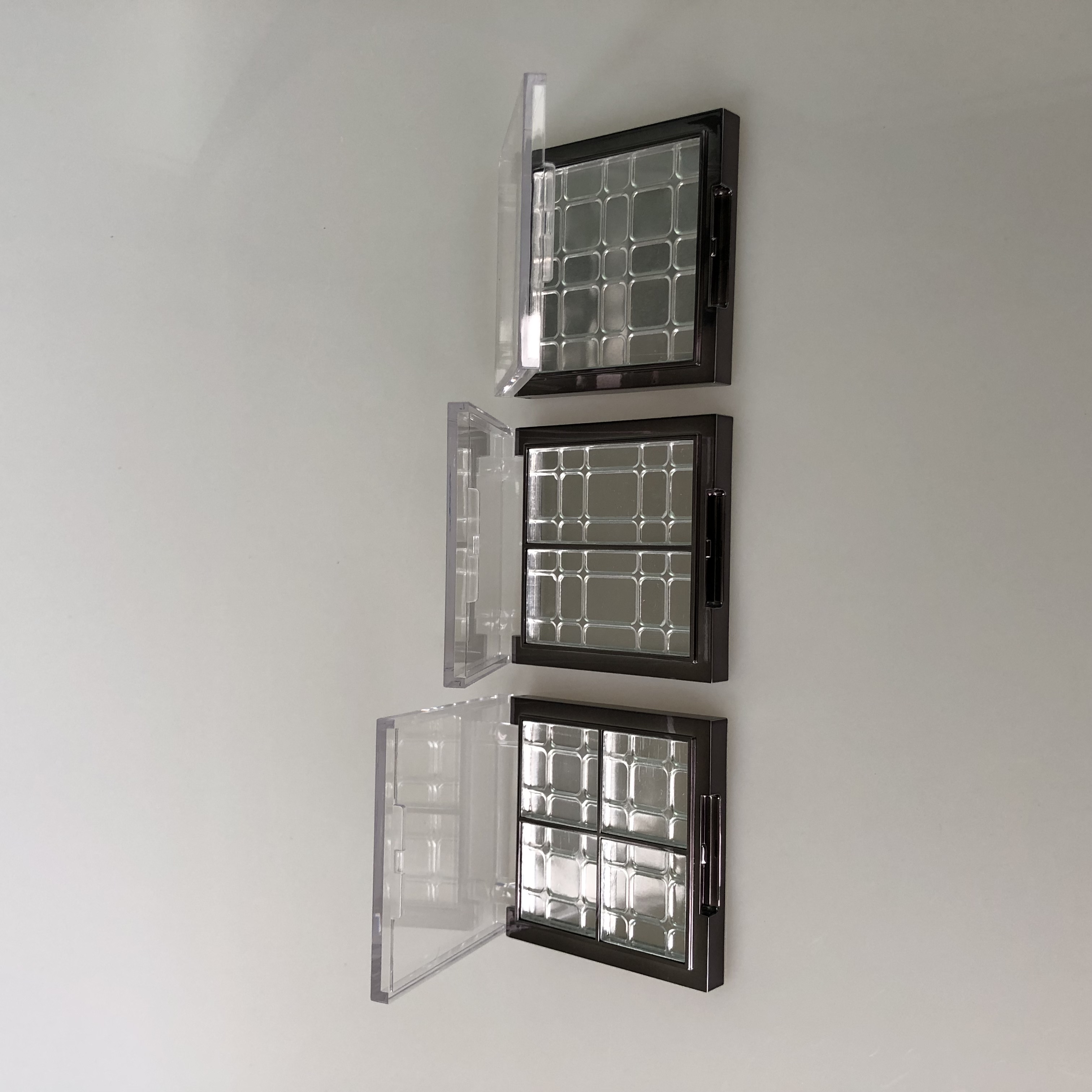 Square Compact Case,Large Square Compact Packaging,Clear Surface For Compact,Compact Case Injected Mold

DongGuan LongTen package Products Co. Ltd , https://www.longtenpack.com